0






1
votes
New Tagging feature on LAVA
Posted by lava , 22 August 2011 · 162 views
LAVA has a new feature which was introduced during the upgrade. You now can add tags to your posts to identify them better and to group posts that cross-cut different forums.
For example. Say you create a post about having difficulty with serial communication and trying to display this data on a graph. You could put this topic in the hardware forum, or the User Interface forum. But not both. Now you can put it in the Hardware forum and just add some tags, like: Serial, Graph, User Interface.
So now if someone wants to lookup all content related to graphs, they can search the Graphs tag and see all content regardless of forum location.
This feature is exposed in the post create\edit form as shown in the image below.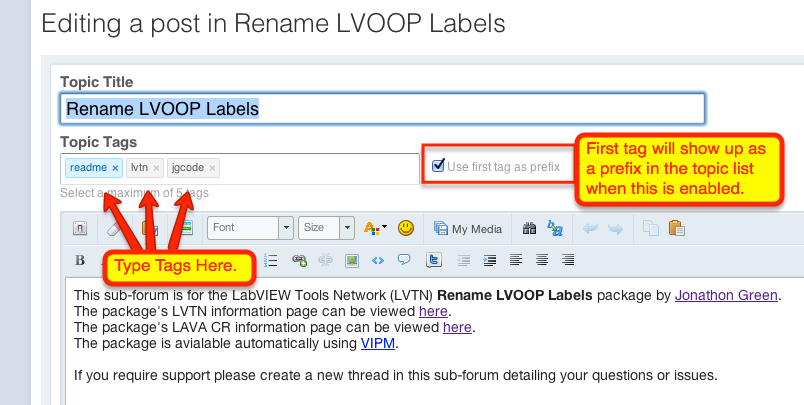 We had the option of having predefined tags which you could pick from a list or user defined tags. It wasdecided to leave it open so the community could create the tags. We're hoping that this won't be abused and that useful tags are created. The tagging system will go through an evaluation period to see how the community likes it. At the end of the evaluation, we will see if it will continue or be turned off.
Please do not create unnecessary tags. Consider how the tag helps categorize and identify the post or topic so it will help others find your content.
Note:
Separate tags with commas.