I debugged multiple hours today a bug in my code where for some reason I did not receive user events to my event structure. The bug happened in a class whose private data looks the following.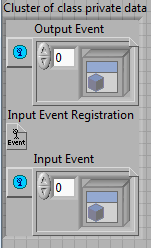 In the code, I set the input event registration refnum within a method VI of the class. In the particular class the same VI could be called multiple times, so I only registered the events if they had not been registered earlier. I wrote a test case and the test case looked like it was deadlocking. I was looking the bug everywhere but not the class private data. Finally I find the bug by placing a probe on the wire originating from a constant of that class.

The bug in my code was that the class private data had an event registration refnum, which had a default value that was non-zero. However, there is no way to see this bug by just looking the class private data. There is also no way of fixing the bug, other than creating a completely new event registration refnum constant of the same type and copying it to the class private data to replace the original one.
The bug originates from the fact that in LabVIEW you cannot drop event registration refnums fron control palette but you have to instead create one on the block diagram and then copy the event registration refnum from your diagra (front panel) to your class private data. Again there is no way of noticing if the event registration refnum has a non-zero value. So I must have ran my code once, then copied an indicator to my class private data, carrying the non-zero default value with it not seeing it as the look-and-feel of the event registration refnum is exactly the same if it is null or not.
In my code, LabVIEW did not return me an error when I reregistered a user event with an old invalid event registration refnum. They got properly registered, at least it appeared so. In some cases the code even worked properly, apparently LabVIEW created a event registration refnum to the memory address specified by the constant that was connected to the input of register for events. It was only in case of multiple instances trying to use the same event registration refnum constant when I ran into troubles, I was unable to use the constant registration refnum with multiple event structures (surprise). I am confused of the fact that I did not get an error from event registration refnum, I think that might be a bug in LabVIEW. I am quite as surprised that LabVIEW did not crash when I used invalid reference for creating an event registration. When I was debuggin the code, not-a-refnum node returned false indicating that the constant refnum was a valid refnum, which I think is another LabVIEW bug.
My question for you guys is, what would be the best way to improve the user experience to avoid this problem for occurring. One idea I have is to have refnum types to have a right click option to set them to null reference. That still would not fix the issue but would help to clear references. Another idea would be to visually change the appearance of the reference controls, indicators and constants that do have a non-zero value, so that the programmer would have a way of knowing that the reference type is non-zero. This visual difference should be rather visible, it is very seldom the case that you actually want to use a constant value for a reference type. Usually you just want your reference values to be zero.