VI Name:
CRC32
Total VIs:
3
Description:
I was suprised LabVIEW didn't had the CRC32. So I made it,
http://en.wikipedia....edundancy_check
,
http://www.ietf.org/rfc/rfc1952.txt
. It can take a array of U32, one element of U32 or a string. When needed I can create more CRC checks, CRC8, CRC16, etc... but CRC32 is the most used one I readed.
Note:
-
Blockdiagram: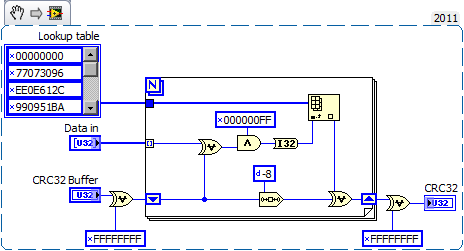 What are you thoughts on this VI?
Would you like to see such a function in OpenG?

Can you optimize the code?

In which package should it be included?

Should it be rejected?